weddings and other events
Our large selection of carriages are mainly victorian originals all in perfect condition. All have hoods that can be raised in an instant should the weather change or you may like to choose from one of our closed in carriages. We also have a Park Drag, Wagonette Break, Hansom Cab, and many black or white hearses.
We can not only offer a superb Wedding service, we can also offer our services for Proms, Birthdays, Anniversaries, Corporate days out, funerals and more.
We participate in the Lord Mayors show each year and supply an original Burgundy Landau, (as seen on the wedding carriages page), pulled by 2 of our stunning fresian stallions.
Our staff, horses and carriages have also participated in many films and television shows such as;
Capital 24
The Riddle
Don't Drop The Coffin
The Wedding Program for Ginger T.V. (Channel 4)
Eastenders
and many more.
Our horses and staff have buried a few of the soaps favourites including BBC Eastenders Nana Moon, Pauline Fowler, Jamie Mitchell and Frank Butcher!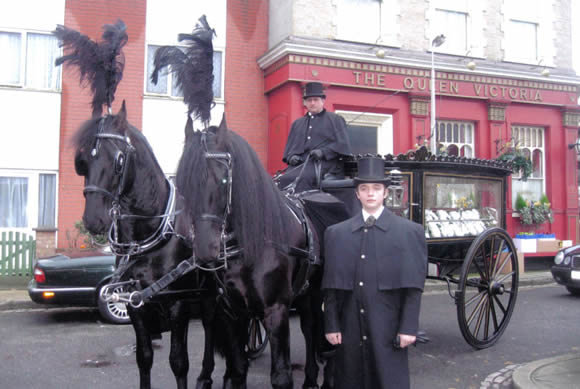 We are proud to offer you coachmen that are fully qualified and have worked with royalty having worked for the Royal Mews in the past. Our standards are very high and are hard to beat, and our horses are top quality carriage horses not carthorses!
Black or White horses can be chosen with any carriage of your choice. The limit they drive is 12 miles, travelling approximately 5 - 7 minutes to the mile. We aim to arrive at your pick up point at least 1 hour before we are required to leave for your destination. We cover any area within the South East of England. For more information and all enquiries contact us here.